How to post customer reviews on Instagram for maximum impact
Reviews are crucial, and even though Instagram doesn't have a reviews feature, that doesn't mean you can't post customer reviews. Read more to learn how!
In an age of selfies, influencers, and content marketing, using customer reviews to generate brand awareness and sales is crucial. In BrightLocal's latest survey, 91% of respondents actively read online business reviews. This means that now more than ever before, consumers are seeking out information about a company or product before purchasing.
While this is likely on every marketer's radar, there is a hidden secret in the mix that plays a key role in today's successful content marketing strategy: Instagram customer reviews.
You can leave a review on Instagram, just not in the classic "5-star rating" format you'd expect. Using these reviews to your advantage can leave a positive impact on your content marketing strategy. Keep reading to learn how to use customer reviews on Instagram for maximum impact, without making it look weird.
What are the Benefits of Reviews
The benefits of customer reviews are endless for a brand. In fact, reviews directly impact and benefit a brand's reputability. BrightLocal found that 88% of consumers trust online reviews as much as personal recommendations. In other words, word of mouth plays a key role in an organization's credibility and consumer purchasing decisions, and those five little stars that appear in search engine results pages (SERPs) are more important than you think.
The reviews that appear in Google allow consumers to easily compare competitors, and make more informed decisions that potentially could not have been made by simply asking a friend. Businesses with higher reviews are commonly viewed as more reputable and trustworthy.
Online reviews can also benefit an organization's search engine visibility. A steady flow of positive reviews acts as an outlet for content, which a search engine will value highly when ranking sites. A higher site ranking signals authority and reputability to both consumers, partners, and search engine algorithms.
Along with reputability, credibility, and search visibility, customer reviews can offer insights into a brand's audience. Brands can use these insights as feedback to further improve their product and overall experience. Along with this, online reviews simply allow customers to have a voice, which can improve customer loyalty over time.
Online reviews are beneficial to brands because realistically, customers are doing part of the marketing work for you! The next step is learning how to leverage customer reviews to improve marketing strategies.
How Customer Reviews Impact Sales
According to a recent study by Bazaarvoice Network, one product review can boost sales by 10%. Think that's a lot? The study also found that 200 product reviews can boost sales by upwards of 44%.
It's time to start paying attention to customer reviews. Sites that have no reviews are less likely to see increases in not only sales, but also site traffic. Consumers are more likely to purchase from sites that have a large number of reviews (even better if they're positive!).
If you notice that your site is lacking review content, or positive review content, see it as an opportunity for growth. Whether it's implementing a new SEO strategy to begin driving traffic to your site, or evaluating negative feedback in reviews, there is always room for improvement.
How to use customer reviews on Instagram without it looking weird
Superficially, customer reviews and Instagram may not seem to go hand and hand. While this is a common assumption, Instagram is one of the top platforms for User-generated content (UGC) and is flourishing with authentic customer reviews.
When used correctly, brands can leverage this UGC to strengthen their marketing strategy and ultimately build brand awareness, credibility, and drive sales.
Instagram doesn't have a review feature - So it's crucial to get it right
Nope, Instagram doesn't actually have a review feature for business accounts. This doesn't mean that reviews don't exist on Instagram. The main features of Instagram (i.e. posts, videos, Reels, stories, highlights, and guides) can actually act as influential customer reviews.
If a person shares their experience with a product, service, or brand on Instagram, that review is visible to all of their followers. Their followers can subsequently view the product and its profile and either decide to convert in some capacity or move on with their day. Either way, Instagram customer reviews can fuel brand awareness.
Stories, Highlights, Reels, and Posts
Instagram stories, highlights, and posts are popular ways to share reviews on the platform. The most exciting aspect of Instagram customer reviews is that they can be authentic and educational content that a brand can re-share on their profile.
Asking permission to repost a review or story is a perfect way to start engaging with your following while also encouraging others to leave reviews. Instead of simply posting the screenshot, create eye-catching graphics to pair with the reviews to stay true to your brand.
Creating a highlights reel on your profile is another great way to showcase your reviews to people that visit your profile. We know that people love having real customer feedback - make their search process more simple by putting all of your reviews in one spot.
Glossier and LastObject use informative customer reviews in their posts and stories: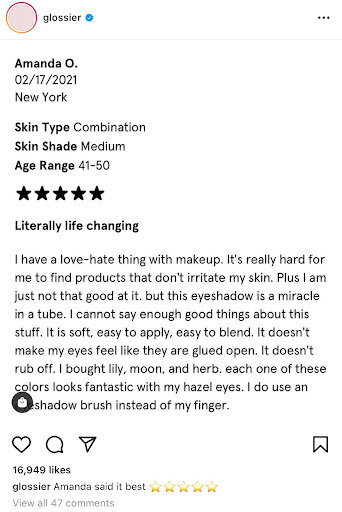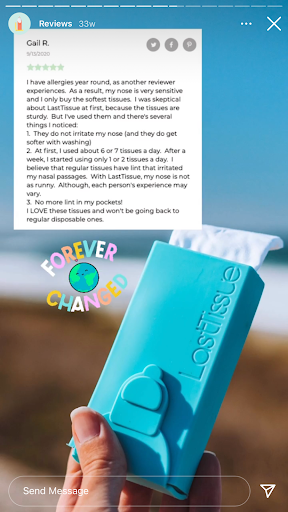 Text Captions
If you choose to repost a customer review to your profile, be sure to include the caption. While the review is likely complimenting your brand, this is also a great way for you to thank the customer while also encouraging others to post a review as well.
Bim Bam Boo Paper creates text captions that engage with the audience and the person that left the review:
Live Reviews
Instagram Lives allow content creators, such as bloggers or celebrities, to connect with their audience in real time. Partnering with influencers to review brands and products live is a great way to build brand awareness while also receiving a positive customer review!
Want to learn more about how to find creators to represent your brand? Use the Cohley creator connection platform to run a creator campaign today.
Link to a reviews page on your Instagram profile.
The most important part of leveraging customer reviews on Instagram is creating a reviews page or highlight on your Instagram profile. If potential customers discover a brand via social media, oftentimes they'll want to know what people are saying about it.
Creating a review "hub" that is easily accessible is a great first step towards converting visitors into customers. And remember, the more reviews you have, the better! Check out Standard Beauty and LastObject's Review highlights for inspiration: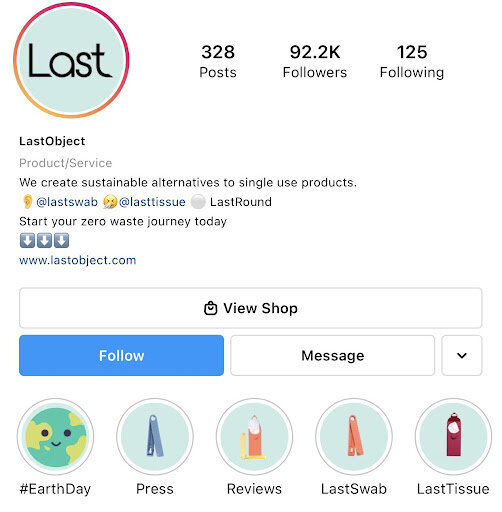 Generate Customer Reviews With Cohley
Need to generate or leverage your Instagram customer reviews, but don't know how to get started? Cohley can help up your content marketing game in order to increase not only reviews, but customers! Learn more about Cohley's creator platform and more today.
Written by Parker Dietz
Parker is a staple in our marketing team - Our Marketing Manager brings with him an intimate knowledge of the platform, and is our go-to on technical topics, and user behavior. With a wealth of knowledge about competitors and pricing, Parker is all about exploring the best way to communicate Cohley's benefits. Outside of work, Parker enjoys poorly playing guitar at parties, watching every Adam Sandler movie ever made, and eating Arabic food.